About Us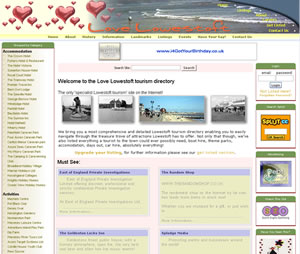 The Love Lowestoft website is a project developed by us at Freedom Web Development. The site is for local people and tourists to the town. There is a wealth of information, with advertisers being able to update their own details.
We believe in helping you and the internet community to grow into an online world we can all be pleased to be a part of. Our experience in this field has been quite an adventure and allowed us to help many to find the most effective ways to use todays I.T solutions.
There is no limit to what you can do and if given the resources and time then simply, anything is accomplishable. We would like to help you along that journey.
Experience from many years of providing web design and development services as well as technical support and solving problems has taught us many useful lessons we would like to now pass on and group under this one roof. Freedom Web Development ceased trading in this field in 2007, but the seed grew and we never stopped learning!
We hope everyone can benefit from the resources on this site.